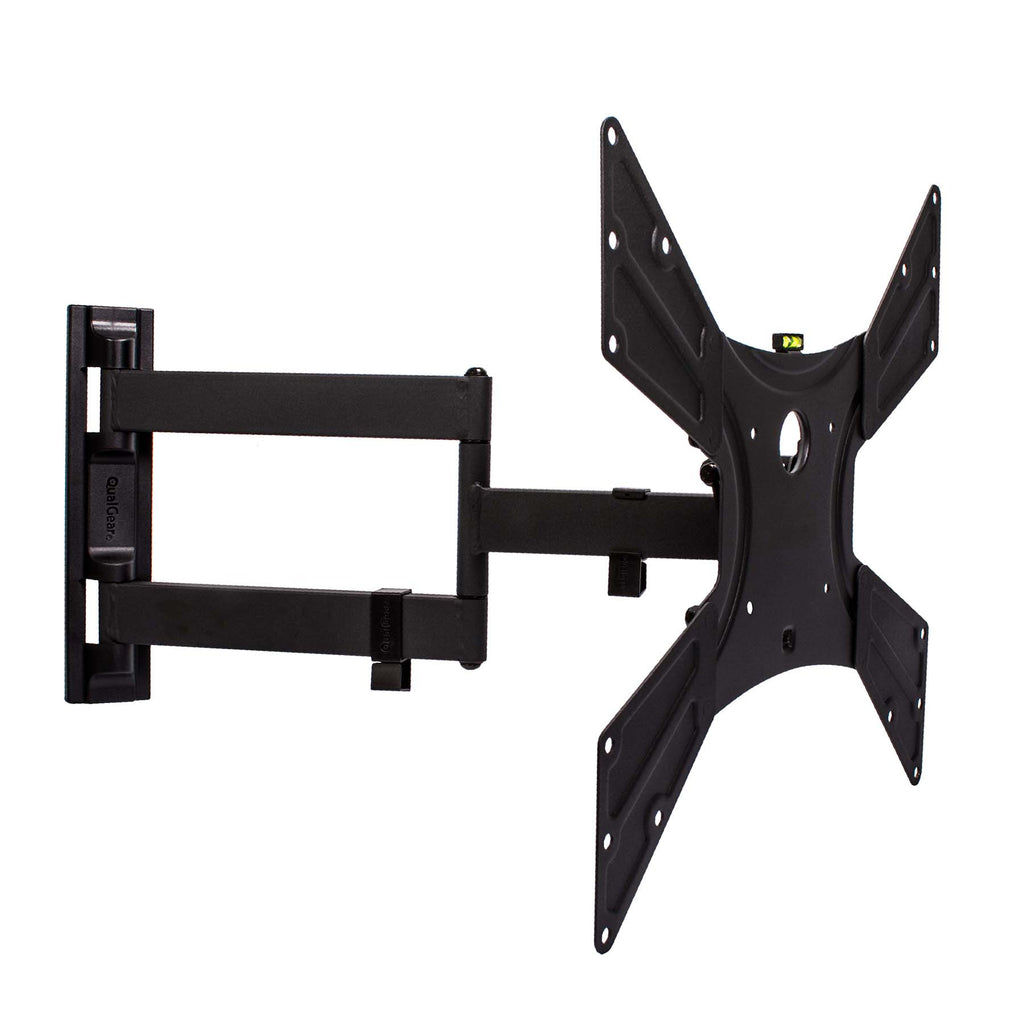 QualGear QG-TM-021-BLK Universal Ultra Slim Low Profile Articulating Wall Mounting Kit for most 23-inch to 47-inch and some 55-inch LED TVs
---
MOUNT STYLE: Articulating Mount 23-inch to 47-inch
PRODUCT MODEL #: QG-TM-021-BLK
PRODUCT COLOR: Black
PRODUCT DESCRIPTION
The QualGear QG-TM-021-BLK is a full-motion wall mount for most 15 to 47 (and some 55) inch LED, LCD flat-panel TVs weighing up to 66 lbs. The arm can be stretched up to 20 inches and the three pivot points give a full range of movement to perfect your screen display - pan through 90 Degree left or right and +5 Degree~-15 Degree tilt. This pre-assembled arm comes complete with integrated cable management and decorative covers to ensure an elegant and tidy look. Its built-in level adjustment offers 3 Degree clockwise and counterclockwise turning to ensure it is perfectly level. Compatible with VESA mounting hole patterns from 75x75 and up to 400x400.
TV COMPATIBILITY CHECK
1. Size of TV: Supports most 15 to 47-inch TVs and some 55-inch TVs.
2. Weight of TV: Supports TVs that are weighing up to 66 lbs.
3. Mounting Hole Patterns (VESA) in mm: Supports standard mounting hole patterns from 75x75 to 400x400.
PRODUCT FEATURES
1. Extends, swivels and tilts offer perfect viewing angle from any seat in the room
2. Super slim design places TV just 2 inches from the wall to enhance the look of ultra-thin LED TVs
3. Post-installation leveling adjustments allow TV to be perfectly positioned after hanging
4. Decorative cover conceals assembly and mounting hardware for a neat look
5. Cable clips keep cables organized
6. Pre-sorted hardware pack for easy installation
7. Mounting hardware is included for mounting to wooden studs, concrete and brick surfaces
ACCESSORIES INCLUDED
High Speed HDMI 2.0 cable 6 feet


360 Degree Viewer
---
Click and Drag to rotate image
---
Share this Product
---
More from this collection