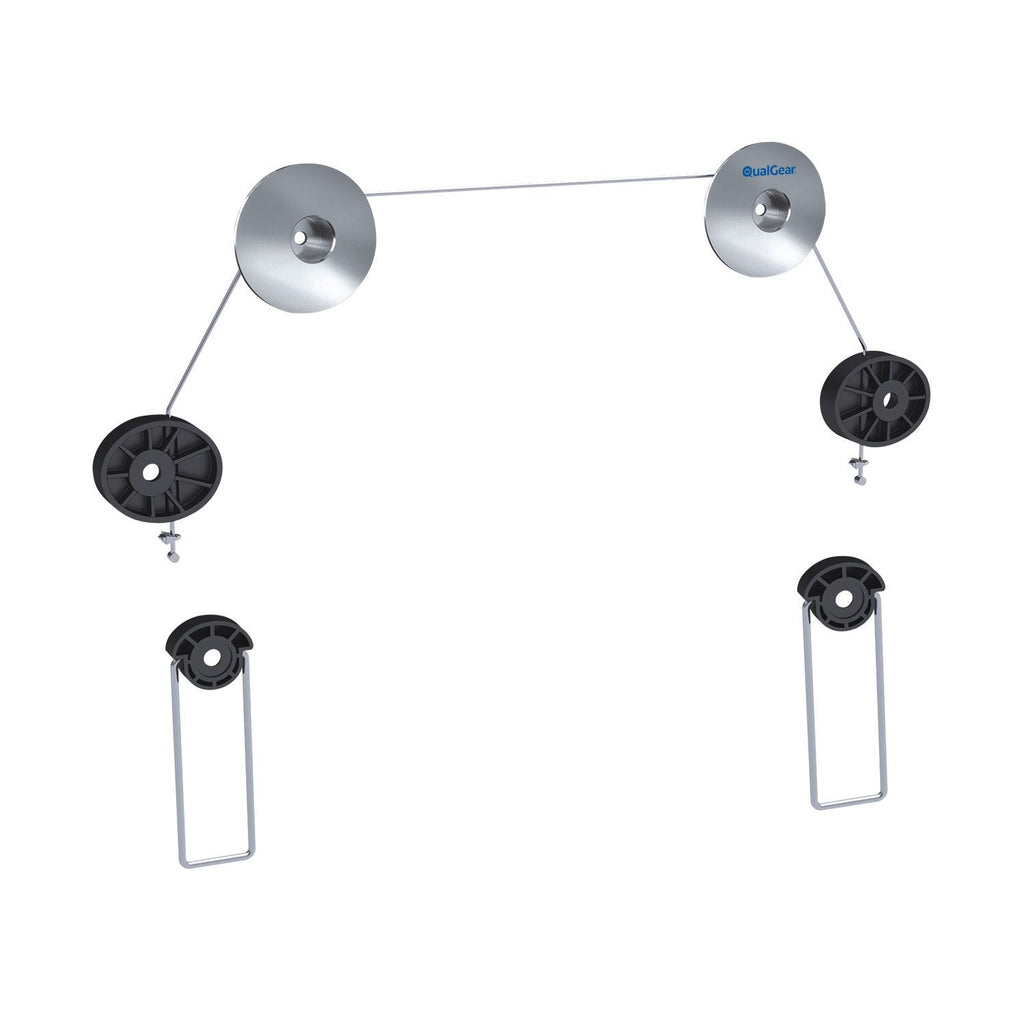 QualGear QG-TM-001 37-Inch to 70-Inch Universal Ultra Slim Low Profile Picture Hanging Style Wire Rope Wall Mount LED TVs, Stainless Steel
---
MOUNT STYLE: Fixed Wire Mount 37-Inch to 70-Inch
PRODUCT MODEL #: QG-TM-001
PRODUCT COLOR: Stainless Steel
PRODUCT DESCRIPTION:
The QualGear QG-TM-001 Fixed TV Wall Mount is a perfect solution for low profile mounting of your ultra flat or curved LED TV. Using a picture hanging principle, the mount is easy to install. The VESA mount supports most 37-Inch to 70-Inch LED TVs weighing up to 110 lbs and with following mounting hole patterns (VESA): 100x100mm to and 800x800mm. The mount lets you have your flat or curved TV install at less than 0.6-Inch from the wall. The mount features a built-in kickstand to hold your TV away from the wall for easy hookup of cables on the back of TV.
TV COMPATIBILITY CHECK:
To check to see this mount works for your TV or monitor, please ensure your TV meets all of the checks specified below:
1. Size of TV: Supports most 37 to 70-inch TVs including the popular 55 inch and 65 inch TVs
2. Weight of TV: Supports TVs that are weighing up to 110 lbs.
3. Mounting Hole Patterns (VESA) in mm: Supports standard mounting hole patterns from 100x100 to 800x800.
4. Studs: Supports both 16-inch and 24-inch most standard wooden stud spacings in the United States.
PRODUCT FEATURES:
1. Ultra slim design places TV just 0.6 inches from the wall to enhance the look of ultra-thin LED TVs
2. Pre-sorted hardware pack for easy installation
3. Mounting hardware is included for mounting to wooden studs, concrete and brick surfaces
4. Features a built-in kickstand to hold your TV away from the wall for easy hookup of cables on the back of TV
---
Share this Product
---
More from this collection