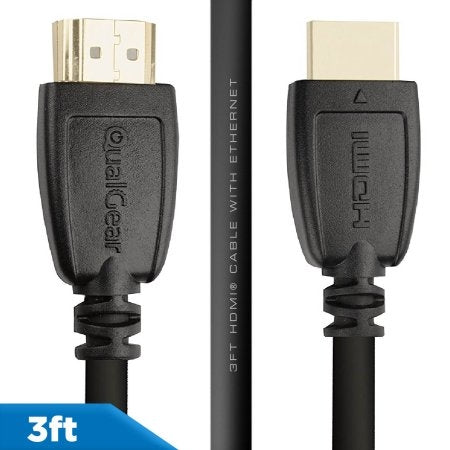 Qualgear High Speed HDMI 2.0 cable with 24K Gold Plated Contacts, Supports 4K Ultra HD, 3D, Upto 18Gbps, Ethernet, 100% OFC
---
Bandwidth up to 18Gbps:

 

This cable boasts an impressive data transfer rate of

 

18 gigabits per second. It's like having a superhighway for your audio and video signals!

HDMI A Male to A Male Cable:

The connectors at both ends are

 

male HDMI Type A. This means you can seamlessly connect devices like Blu-ray players, gaming consoles, and computers to your TV or display.

4K @50/60 (2160p):

Prepare to be dazzled! This cable supports

 

4K resolution

 

at

 

50 or 60 frames per second. That's

 

four times

 

the clarity of standard 1080p video.

Supports Ethernet, 3D, 4K Video, and Audio Return Channel (ARC):

It's not just about visuals. This cable enables

 

Ethernet connectivity, so your devices can share an internet connection without needing an extra cable.
Enjoy immersive

 

3D content

 

and crystal-clear

 

4K video.
The

 

Audio Return Channel (ARC)

 

ensures that audio signals flow both ways between your TV and connected devices.

Versatile Compatibility:

Connects a wide range of devices, including:

Blu-ray players
Apple TV
PS4 and PS3
Xbox 360 and Xbox One
Computers
And any other HDMI-enabled gadgets!

Hook it up to TVs, displays, A/V receivers, and audio systems.

Audio Excellence:

Experience audio like never before! This cable supports

 

up to 32 audio channels, creating a multi-dimensional soundscape.
With a whopping

 

1536kHz audio sample frequency, you'll enjoy the highest fidelity sound.

Gold-Plated Connector:

The connectors are gold-plated, ensuring reliable signal transmission and durability.

High-Speed with Ethernet:

Not only does it handle high-resolution video, but it also supports Ethernet functionality.

Wide-Angle Theatrical 21:9 Video Aspect Ratio:

Perfect for cinematic widescreen content, this cable embraces the

 

21:9 aspect ratio.

Meets HDMI 2.0 Specifications:

This cable adheres to the HDMI 2.0 standard, guaranteeing compatibility with modern devices.
And the best part? You can share your internet connection among multiple devices without needing an extra Ethernet cable.
This HDMI cable is a powerhouse that bridges the gap between your entertainment devices, delivering stunning visuals and immersive audio. 🎥🔊🔌
360 Degree Viewer
---
Click and Drag to rotate image
---
Share this Product
---
More from this collection